Product Summary
The GRM55ER72A475KA01L is a Monolithic Ceramic Capacitor with High Dielectric Constant.
Parametrics
General specifications: (1)capacitance: 4.7uF; (2)tolerance:10 %; (3)voltage rated value: 100Volts; (4)operating temperature range:-55℃ to +125℃; (5)Temperature Coefficient/Code: X7R; (6)size: 5 mm W x 5.7 mm L x 2.5 mm H; (7)package:Reel; (8)Standard Pack Qty:500; (9)terminating type:SMD/SMT.
Features
Features: (1)Higher resistance of solder-leaching due to the Ni-barriered termination, applicable for reflow-soldering, and flow-soldering (GRM18/21/31 type only); (2)The GRM series is a lead free product; (3)Smaller size and higher capacitance value; (4)High reliability and no polarity; (5)Excellent pulse response and noise reduction due to the low impedance at high frequency; (6)The GRM series is available in paper or embossed tape and reel packaging for automatic placement Bulk case packaging is also available for GRM15/18/21(T=0.6,1.25); (7)TA replacement.
Diagrams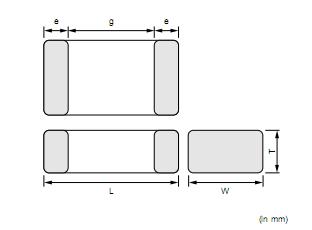 Image
Part No
Mfg
Description
Pricing
(USD)
Quantity

GRM55ER72A475KA01L

Murata

Multilayer Ceramic Capacitors (MLCC) - SMD/SMT 2220 4.7uF 100volts X7R 10%

Data Sheet



| | |
| --- | --- |
| 0-1: | $1.60 |
| 1-50: | $1.22 |
| 50-100: | $1.11 |
| 100-500: | $0.71 |

Image
Part No
Mfg
Description
Pricing
(USD)
Quantity

GRM55D7U2J333JW31L

Murata

Multilayer Ceramic Capacitors (MLCC) - SMD/SMT 2220 0.033UF 630volt U2J +/-5%

Data Sheet



| | |
| --- | --- |
| 0-1: | $0.83 |
| 1-50: | $0.64 |
| 50-100: | $0.58 |
| 100-500: | $0.53 |
| 500-1000: | $0.48 |


GRM55D7U2J393JW31L

Murata

Multilayer Ceramic Capacitors (MLCC) - SMD/SMT 2220 0.039UF 630volt U2J +/-5%

Data Sheet



| | |
| --- | --- |
| 0-1: | $0.85 |
| 1-50: | $0.65 |
| 50-100: | $0.59 |
| 100-500: | $0.54 |
| 500-1000: | $0.50 |


GRM55D7U2J473JW31L

Murata

Multilayer Ceramic Capacitors (MLCC) - SMD/SMT 2220 0.047uF 630volt U2J +/-5%

Data Sheet



| | |
| --- | --- |
| 0-1: | $0.88 |
| 1-50: | $0.67 |
| 50-100: | $0.61 |
| 100-500: | $0.56 |
| 500-1000: | $0.51 |


GRM55D7U3A103JW31L

Murata

Multilayer Ceramic Capacitors (MLCC) - SMD/SMT 2220 0.01uF 1000volt U2J +/-5%

Data Sheet



| | |
| --- | --- |
| 0-1: | $0.82 |
| 1-50: | $0.63 |
| 50-100: | $0.57 |
| 100-500: | $0.52 |
| 500-1000: | $0.48 |


GRM55D7U3A822JW31L

Murata

Multilayer Ceramic Capacitors (MLCC) - SMD/SMT 2220 8200pF 1000volt U2J +/-5%

Data Sheet



| | |
| --- | --- |
| 0-1: | $0.79 |
| 1-50: | $0.61 |
| 50-100: | $0.55 |
| 100-500: | $0.50 |
| 500-1000: | $0.46 |


GRM55DB32E334KY01L

Murata

Multilayer Ceramic Capacitors (MLCC) - SMD/SMT 2220 0.33uF 250volts B 10%

Data Sheet



| | |
| --- | --- |
| 0-1: | $1.90 |
| 1-50: | $1.10 |
| 50-100: | $0.98 |
| 100-500: | $0.84 |
| 500-1000: | $0.61 |