Product Summary
The LQW18ANR22G00D is a chip inductor. It is designed for high frequency applications. It is designed to relize stable characteristics in high frequency range applying integrated multilayer process.
Parametrics
Specifications: (1)Manufacturer: Murata; (2)Product Category: RF Inductors; (3)Inductance: 220 nH; (4)Tolerance: 2%; (5)Maximum DC Current: 120 mAmps; (6)Maximum DC Resistance: 2.5 Ohms; (7)Self Resonant Frequency: 1.2 KHz; (8)Q Minimum: 25; (9)Operating Temperature Range: - 55℃ to + 125℃; (10)Termination Style: SMD/SMT; (11)Package / Case: 0603 (1608 metric); (12)Dimensions: 0.8 mm W x 1.6 mm L x 0.8 mm H; (13)Packaging: Reel; (14)Series: LQW18A; (15)Standard Pack Qty: 4000; (16)Test Frequency: 100 MHz.
Features
Features: (1)High-Q, stable inductance in high frequency is achieved by the original structure that minimizes stray capacitance. It is suitable for the high frequency circuits of mobile communication equipment; (2)The small size of LQG15H (1.0x0.5x0.5mm) is suitable for small and low profile mobile equipment; (3)The external electrodes with nickel barrier structure provide excellent solder heat resistance; (4)Wide variation in inductance value: 1-10nH (E24 step); 10-120nH (E12 step).
Diagrams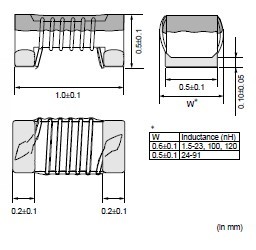 Image
Part No
Mfg
Description
Pricing
(USD)
Quantity

LQW18ANR22G00D

Murata

RF Inductors 220 NH 2%

Data Sheet



| | |
| --- | --- |
| 0-1: | $0.19 |
| 1-50: | $0.16 |
| 50-100: | $0.15 |
| 100-500: | $0.13 |

Image
Part No
Mfg
Description
Pricing
(USD)
Quantity

LQW15AN10NG00D

Murata

RF Inductors 10 NH +-.2NH

Data Sheet



| | |
| --- | --- |
| 0-1: | $0.17 |
| 1-10000: | $0.08 |
| 10000-20000: | $0.08 |
| 20000-30000: | $0.07 |


LQW15AN10NH00D

Murata

RF Inductors 0402 10nH +/-3% DCR 0.17ohm

Data Sheet



| | |
| --- | --- |
| 0-1: | $0.17 |
| 1-50: | $0.15 |
| 50-100: | $0.14 |
| 100-1000: | $0.09 |


LQW15AN10NJ00D

Murata

RF Inductors 10 NH 5%

Data Sheet



| | |
| --- | --- |
| 0-1: | $0.16 |
| 1-50: | $0.14 |
| 50-100: | $0.13 |
| 100-500: | $0.10 |


LQW15AN11NG00D

Murata

RF Inductors 11 NH +-.2NH

Data Sheet



| | |
| --- | --- |
| 0-1: | $0.17 |
| 1-10000: | $0.08 |
| 10000-20000: | $0.08 |
| 20000-30000: | $0.07 |


LQW15AN11NH00D

Murata

RF Inductors 11nH 3% 100MHz

Data Sheet



| | |
| --- | --- |
| 0-1: | $0.17 |
| 1-50: | $0.15 |
| 50-100: | $0.14 |
| 100-1000: | $0.09 |


LQW15AN11NJ00D

Murata

RF Inductors 11nH 5% 100MHz

Data Sheet



| | |
| --- | --- |
| 0-1: | $0.16 |
| 1-50: | $0.14 |
| 50-100: | $0.13 |
| 100-500: | $0.10 |